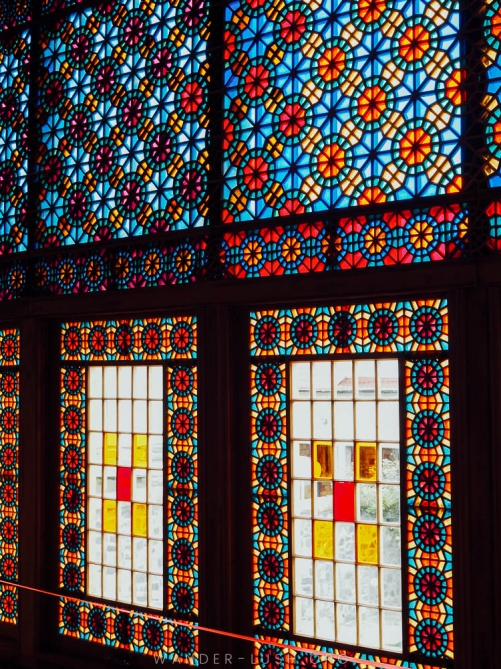 Stained glass work known as 'Sebeke/Shabaka', are windows filled with coloured glass, created by national Azerbaijani masters from small wooden parts without glue and nails.
On the territory of Azerbaijan, Shabaka as an art form was widespread in cities such as Sheki, Shusha, Ordubad, Baku, Ganja, Lankaran, Nakhichevan and Derbent (Russian Federation). A classic example of this art form is the Sheki Khans Palace. These stained glass windows are the special feature in the palace's architecture. Geometric patterns of shabaka-windows harmonize with the general composition of the palace's facade.
Shabaka is an intangible cultural heritage that has an artistic constructive form in the Middle Eastern architecture and in the decorative arts and crafts. It has been used in the architecture of Azerbaijan since the 11th-12th centuries. A masterpiece of the decorative art is the flatness consisting of small glass pieces assembled by the master with wood elements that fix each other without glue or nails. The main "secret" of this art consists of the transfer of wooden parts with a ledge and an indentation between which small glass pieces are inserted. Parts of the tree are made from solid wood species – boxwood, walnut, beech, and oak. Shabaka patterns, meaning lattice, symbolize the Sun, the energy of life, the eternal flow of the time and the infinity of the universe.
The surface dimensions of the Shabaka can vary from a few square centimetres to several square meters, depending on the functional purpose of the items. Since the foundation of the ornament is made up of more precise geometric figures, there is another classification according to compositions: "jafari", "sekkiz", "onalty", "gullyabi", "shamsi", "gelu", and also "bendi-rumi".
Bearers of the art of Shabaka and its symbols are folk masters. Famous folk craftsmen include Mehdi Mehdiyev (19th century), Shahbuzla Abuzer Badalov (18th-19th centuries), Abbasgulu Sheki (19th century). The revival of this art in the twentieth century was facilitated by Abdulhuseyn Babayev (1877-1961), Ashraf Rasulov (1928-1997).
At the moment, the development of art is promoted by Ashraf Rasulov's son Tofig (1961) and his grandson Ilgar (1990). Also, Soltan Ismayilov and Huseyn Mustafazade (Sheki), Jabir Jabbarov (Ordubad), Rafig Allahverdiyev (Shusha) stand out in this area.
The word "Shabaka", in translation from the Azerbaijani language, means "net", "lattice".